//exhibit.php
Narratives" featuring poster artists T-Bone and Aljaxx and Portland artists Fred Swan, Kelly Williams, Rio Wrenn & Raithon Clay
Archived: March 7th - 8th, 2013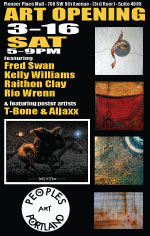 "Narratives" featuring poster artists T-Bone and Aljaxx
along with Portland artists Fred Swan, Kelly Williams, Rio Wrenn & Raithon Clay
Reception: Saturday, March 16th. 5-9pm.
Show runs March 16th – April 14th.
Peoples Art of Portland Gallery
700 SW Fifth (3rd floor) People's is Suite 4005
Settlement Galleries
Pioneer Square Mall, downtown Portland
open Thurs-Sun 12-6pm
"NARRATIVES"
4 artists (Fred Swan, Kelly Williams, Rio Wrenn and Raithon Clay)
telling stories in abstract form
Every March at Peoples Gallery we have an abstract show. This year, we invited 4 abstract artists to explore the notion of Narratives in their otherwise non-verbal works. Narratives artists Fred Swan (encaustic, watercolor and sculpture), Kelly Williams (encaustic), Raithon Clay (acrylic and resin) and Rio Wrenn (textile and rusted found object) form together a multi-media spectrum of abstract ideas and forms. Narratives came together this way, 4 artists working organically in different mediums, from different backgrounds, tackling form and function to the story beneath the surface of their observed abstract ideals.
In the words of the Narrative Artists:
"We are born into stories, the stories of our parents, our families, and our cultures. These narratives, which predate us and surround us upon our arrival into the world, construct meaning for us and make life – in the overwhelming nature of the universe – coherent. The show Narratives is one means for us, as artists, to share our stories, either as moments we have experienced or imagined in our lives, or as sequences of events that have unfolded over time.
Some of the stories are fresh and raw. Others may be old and travel worn across the distances of our creative histories. Some are the expressions of thoughts we have had. Art can speak of wishes, dreams, hopes, losses, pain. It can tell stories about the experimentation and learning processes of the artists themselves. Whether we have compressed our narratives into single or multiple images, two dimensional or sculptural objects, we hope you will experience our work as outward expressions of the world we have encountered and are living through. Many of the pieces will have brief statements, symbols or other depictions of meaning accompanying them. These small cards, placed beside the work, will serve as symbols, clues, statements, impulses, inspirations or guides. Whatever form our descriptions take, we are honored by your willingness to consider our stories and we appreciate – so much – you giving us these moments of your time. Listening…such a terrific gift. "
ARTISTS
Fred Swan, Kelly Williams, Raithon Clay, Rio Wrenn, T-Bone Aljax
5 out of 59 Pieces View All