//exhibit.php
Stories featuring Chris Haberman & Tyler Corbett
Archived: April 22nd - May 30th, 2012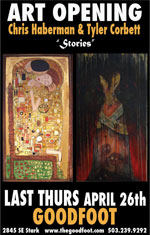 The Goodfoot will have an art opening last Thurs, April 26 from 5-12. This months artists are Chris Haberman and Tyler Corbett. entitled "Stories" Show will be up until May 28th.
Stories: (Noun) – An account of imaginary or real people and events told for entertainment: "an adventure story".
Story telling and the oral tradition is as old as society itself. We are surrounded by stories everyday from television programming to daily gossip and news. In essence, nearly everything we learn, fact or fiction, is a story.
Working primarily from recycled materials, Chris Haberman and Tyler Corbett have tackled the theme of Stories, individually picking stories to create 2D works from.
Chris' folk style and Tyler's neo-realism create a juxtaposition of subject and narrative in their works, ranging from subjects of Greek mythos (Perseus/Medusa) and Grimm Faerie Tales (Snow White) to Biblical tales (Noah's Ark) and Urban myth (Coyote and The Columbia). The duo artists agreed on the general theme, but never discussed individual ideas and stories. This show is a massive compilation of Stories (over 100 will be displayed on the walls), retold from two prolific and eclectic Portland artists' views.
ARTISTS
5 out of 89 Pieces View All