//exhibit.php
"Spots of Time" featuring Linda Womack, Fred Swan & Nate Duval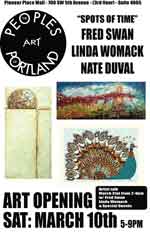 Peoples art of Portland will have an art opening Sat March 10th 5-9pm. The show will be up until April 15.  "SPOTS OF TIME" Featuring Linda Womack, Fred Swan & poster artists Nate Duval. There will also be an artists talk with (Womack / Swan) March 31st from 2-4 with special Guests.
Portland based Linda Womack, is a nationally recognized artist, teacher and published author (Embracing Encaustic: Learning To Paint with Beeswax). In 2010, she was the curator for Luminous Layers: Exploring Contemporary Encaustic, a wide ranging exhibit in Oregon featuring 65 artists and more than 160 pieces of art.   Womack is a tireless advocate for the arts, a working artist and a flagship for encaustic artists in the Pacific Northwest.
She is joined in this show by one of her students, Fred Swan.  Swan is a lifetime artist, being represented for many years by Quintana Galleries.  His signature watercolors depicting Western scenes were recently replaced with a new art direction in his life.  After a near-death experience in 2010, Fred returned to art making as a form of rehabilitation.  His "new" art was a transformation from the watercolor realism into an abstract form in encaustic, examining geological forms and nature.
The duo has examined the phrase "Spots of Time" to reflect their combined works for this show.  The term is coined from the poet Wordsworth's The Prelude: "There are in our existence/spots of time,/that with distinct pre-eminence retain/a renovating virtue."  In essence, Spots of Time, truly does reflect both the medium of encaustic (wax hardened from a fluid state) to purist ideas of abstract beauty "frozen" in time. 
ARTISTS
Fred Swan, Linda Womack, Nate Duval
5 out of 85 Pieces View All