//exhibit.php
Featured poster artist Brad Klausen & the Bag show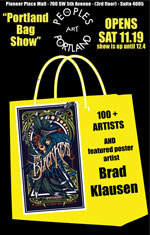 Peoples Art of Portland will have an art opening this Sat Nov 19th from 5-9. This months show features poster artists Brad Klausen and "the Bag show" 100+ artists.
Brad Klausen – Brad Klausen grew up in southern California and moved to Seattle in 1999 to begin a nine-year career as the in-house graphic designer for the world-famous rock band Pearl Jam. In july of 2007 he launched Artillery Design, his one-man design shop where he continues to make posters for Pearl jam, Soundgarden, Built to Spill, Widespread Panic, and many other bands. Brad will be showing limited edition prints an posters at Peoples Gallery. Brad's work will be on display throughout December, 2011.
"The Portland Bag Show"
100 artists create art from and/or on shopping bags as a benefit for P:EAR – community helping homeless youth.
Portland based Maggie McOmie, artist, film star (lead role in George Lucas' first film, THX) and stage actress has collected shopping bags from Museum stores, Department Stores, and boutiques, for many years. The question she asked was, "What do you do with hundreds of bags that came from her travels across the U.S.? An art show benefit, that's what. Maggie has been working on this re-fashioned bag show as an idea for many years and now it's happening at Peoples Gallery in November. Bags are 2d painted/drawn and also 3d – reconstructed into sculpture.
Bags as "art" are offered in 3 affordable price structures: $30, $50 and $70. This is an art show to benefit P:EAR ( www.pearmentor.org ).
Peoples Art of Portland Gallery
700 SW Fifth (3rd floor) People's is Suite 4005
Settlement Galleries
Pioneer Square Mall, downtown Portland
open Thurs-Sun 12-6pm
http://www.peoplesartofportland.com/
Peoples on Facebook: http://on.fb.me/oGMaqE
ARTISTS
5 out of 30 Pieces View All