Archived: June 26th - July 24th, 2011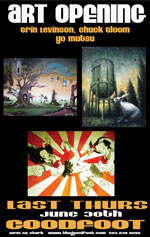 The Goodfoot will have an art opening, Last Thurs, June 30th from 5-12. The show will be up until July 26th . The artists this month are Brin Levinson, Chuck Bloom, Yo Mutsu.
Ryan Organ, Carrier & Sunday Grip will be DJ'in the opening.
Check Sunday July 3rd for a full catalog of the show
ARTISTS
Brin Levinson, Chuck Bloom, Yo Mutsu
5 out of 86 Pieces View All