//exhibit.php
Anna Magruder, Heidi Elise Wirz, Kendra Binney, Summer Hatfield
Archived: May 21st - June 26th, 2011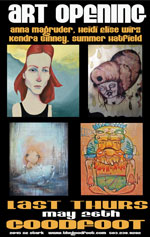 For 14 years Anna Magruder has worked as a graphic designer eventually landing in Portland where she opened her graphic design business in 2005. In 2009, Anna decided to take a leap of faith and leave design to focus on oil painting and illustration. People and faces are her favorite subjects. Many of Anna's images are inspired by found photos as well as the photos in old yearbooks. Drifting between realism and surrealism, she loves recreating vintage America, re-imagining the lives and stories of the characters on her canvas or just exploring the emotional color of faces in the crowd.
Heidi Elise Wirz, Offers you her vulnerability.
Through scenes of dripping landscapes and insecure, vulnerable characters, Kendra Binney illustrates a world draped in memories, remorse, and fragile realities. Seen through pastel washes and shiny candy coatings of resins, her works evoke both nostalgia and contempt. They are at once gentle and cruel, sweet and unsettling. " I'm often struck by the importance of small insignificant things , the perpetuity of impermanence, and my inability to hold onto it.  The world can be completely absurd, often despairing, and fiercely cruel.   I find it completely endearing regardless. " Though her work has been sold, exhibited, and published in countries around the world, Kendra herself spends most days all alone in a small studio in Portland, Oregon. There she paints, daydreams, and paints some more.
Summer is a small fish in a big amazing pond.  She occupies her time in Portland, Oregon as a part time shower singer, puddle hopper, alcohol slinger, peddle pusher, and artist amongst other things.  She dabbles in paintings of all sizes, drawings, screenprinting, installations, collage, and various mixed medias.  Summer is a student of and for life, but has officially earned a Bachelor of Arts degree from Portland State University ('08). She is currently working towards an MFA in art and social practices, also at PSU.  She is one of several hosts of the weekly drink and draw held at the Goodfoot in Portland, as well as a member of the Birdseed Art Collective based in Denver. Her art has been shown primarily in exhibits throughout the pacific northwest, but also in Spain and Germany.  She has several permanent  murals located in different areas around the city of Portland, as well as a few temporary ones. 
ARTISTS
Anna Magruder, Heidi Elise Wirz, Kendra Binney, Summer Hatfield
5 out of 79 Pieces View All