//exhibit.php
Mario Robert, Tim Combs, Tyler Corbett
Archived: March 26th - April 23rd, 2011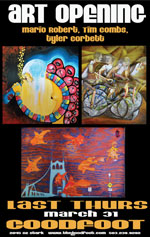 The Goodfoot will have an art opening on Last Thursday, March 31 from 4-12pm. The show will be up until April 26th. The artists this month are Mario Robert, Tim Combs & Tyler Corbett
Mario Robert lives in a world where Aztec Tank girl leads a parade thrown for Dia De Los Muertos. He catches glimpses of this world and translates them to into the long and short grains of wood. Like fossils of the galaxy, these wood grains mimic the gamma, infra red and ultra violet wave spectrums floating around in the cosmos. There he starts like the big bang breathing life into the pure beauty and chaos in the grain. This will all go to the beat of a thousand spirits drinking out in the streets or in Mexican cantinas as if all the souls in the sea came out to party.
"After decades of toil at odder and odder short time jobs, Tim Combs realized that it was OK to be creative and fled the nightmare world of the 9 to 5 office job for the beauteous and gracious lifestyle of the starving artist. For a number of years, he hid behind the moniker, The Reclamation Project, so he could expound about reuse and recycling. Now he is comfortable attaching his name to his art, accepts most opportunities, loves his fickle muse and wonders if anyone else is making sense of the non-linear narrative that is slowly unfolding through his recent distressed, battered, carved, painted and stained work."
Even though Tyler Corbett was born on a dirt patch in Iowa, he is sensitive yet sophisticated. Tyler has lived in Portland for the last eight years. He's enjoyed painting, playing with kittens, bubblegum and horseback falconry. Tyler's looking for a special person who has also dropped out of the painting department at PSU and owes Sally Mae a lot of money.
ARTISTS
Mario Robert, Tim Combs, Tyler Corbett
5 out of 77 Pieces View All