//exhibit.php
Ashley Costa, Brent Wick, Dan Ness, Jennifer Griffo
Archived: January 22nd - February 20th, 2011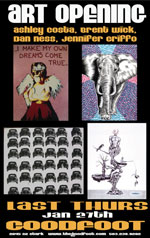 Ashley Costa has been working with stencils and mixed media for the past 5 years, finding a lot of her creative inspiration through the random odds, ends, and people she finds on the street. Art has given her a voice to express her concern for the current social and political situations we are all facing as well as hope for a better future.
Brent Wick is a northwest native, currently living in portland oregon. a self taught artist that find inspiration in skateboarding, motorcycle trips, camping and all the critters that fill the landscape of the cascade range. he has spent various amounts of time working in many other media, but has spent the last 8 years working mostly in brush and india ink. he has recently shown at together gallery, grass hut and the goodfoot
Dan Ness was born in Portland, OR in 1975. He studied art at the University of Oregon. Dan works in various media (painting, printing, photography, and video)
Jennifer Griffo is an artist from New York, now living in Portland for 3&1/2 years. Driven by impulse and observation, Jennifer's work is prominently made up of black-pen drawings on white paper. She creates intimate surrealist landscapes and warped snapshots that hold eyes hostage and all seem to form spontaneously from their first mark on the paper. Jennifer has also recently started oil painting, focusing on occupied war-torn communities and its members. Her work has been featured on 7 album covers over the past 8 years, and she is currently working on a book with poet, Brad Hamers. Jennifer is an active member of The New Police collective.
ARTISTS
Ashley Costa, Brent Wick, Dan Ness, Jennifer Griffo
5 out of 59 Pieces View All