//exhibit.php
Not for Reproduction
Archived: July 29th - August 23rd, 2010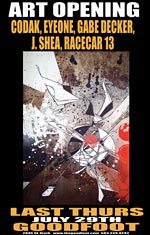 Codak/Adam Smith First touched earth in Oklahoma, received misinformation and mis-education in Oregon, followed family roots from the NW throughout the mid-west, currently back on the left-coast in Los Angeles. From a family background in design, Codak developed a fascination with 'line'… its quality, ambiguity and emotion. Associated with early experiences doodling his favorite comic book characters, falling off his skateboard and riding the bus, he would find himself drawn to Graffiti and it's artistic interaction with the urban landscape. His work is defined by an acute sense of how to exploit space and composition in an organic fashion while maintaining a constructed approach utilizing mixed media. His subtle use of color intermixed with line work has been described as resembling "muscle stretched across bone" and "Malevolent Ivy" creating harmonious contrasts between graphic design and street art. Though he is better known in the world of 'Street Art' his work spans across fields, as he pulls from his childhood exposure to architecture, modern art, and interior design contrasted against his training in graphic design. Recent client work includes: NOKIA, The Sanrio Corporation (Hello Kitty), MGA Entertainment, Pepsi Street Motion, Fat Possum Records and DUB Magazine, as well as exhibitions in locations as diverse as Los Angeles, Chicago, New York City, Washington DC, Montreal, London and Slovakia.Cans have been emptied, brushes abused, markers overfilled, pencils broken, buff paint spilled, computer screens burned out, hard drives fried…….Still in hot pursuit of progression.
Eyeone is a visual artist and graphic designer based in Los Angeles. He holds an MFA in Design | Media Arts from the University of California, Los Angeles (UCLA) and is a member of the graffiti art collective Seeking Heaven. Eyeone publishes the acclaimed Lost | Graffiti in the City of Angels, a documentary journal dedicated to Los Angeles visual culture. He say's about his work "I aim to present a vision of the city that is subjective and paradoxically documentary in nature. Inhabiting this vast urban chaos leads me to explore and find humanity amongst the wire, cement, and smog."
Gabe Decker was born and raised in the SF bay area…..affected early on by the totems left by the bay area's graffiti pioneers..POEM VOGUE KRUSH TWIST UB40 JA… just to name a few……the awareness of style through form and color was seeded …. ever since gabe has been referencing these masters in his work and art. this collection represents an ongoing experiment with the development and evolution of style and the struggle between order and chaos.
J.shea was born and raised in boston,ma….influenced at an early age by the art found in comic books….animation…and classic sci-fi film…..luckily the streets of his fair city were littered with punk rock posters and hand bills that covered telephone poles and recordshop walls…..a constant reminder of the local music scene of the 80's and early 90's proved to be very inspirational as well……………after refining his skills at the art institute in the late 80's…shea's creative career has spanned over 20 years….working in various forms as a poster artist….animator…..
sneaker designer…….puppet fabricator……muralist……and installation artist after living in many cities on the east and west coasts, ingesting an array of influences along the way………shea has been focusing on his personal art…..the work is always handmade in mixed media….with a recycled twist…..combining influences of folk art, assemblage art , and all forms of street art……shea exhibits his work in galleries and installation spaces across the country and just had his first international exhibition in sydney, australia…..he can be found working in his studio and riding his bike in the city of portland,or………….
Racecar13 / Tanner Goldbeck was born in Baltimore, Maryland in 1970… He grew up on the east coast and moved around for several years. Baltimore, New Jersey… a couple spots in between. In 1992 Tanner graduated from The Maryland Institute College of Art. Later on, he attended the Joe Kubert School of Cartoon and Graphic Art in 1996 and eventually moved to Santa Barbara in 1998. He is currently paying bills in downtown Los Angeles. Working freelance and dodging the landlord whenever possible. Tanner's 1st job in California was with Powell Skateboards. he got to work with people he grew up inspired by. Deck art had always been a huge influence on the work that he does now. Tanner has been able to work in the commercial art biz with several companies that have allowed him some creative freedom to do the skulls and monsters he's always been into. Most recently, Icon Motosports based in Portland, Oregon. Along the way, Tanner has been able to make paintings and mess with other media to keep the line art process up and running. The move out west has been a great catalyst to re up new works. Tanner has been able to stick his nose in group shows and meet most of the artists and gallery people that get things done these days. It is a never ending process that one day will lead to solo shows and total world domination… or at least a peaceful spot to rest his brain after all this chaos is over. Racecar 13 is the evolving project in the back of Tanner's brain. In short summary, the art is always up for interpretation.
Influences cover and endless art gamut from many grat master painters to the people that hit the walls around Traction Ave. There is a defnite interest in experimenting with iconic images and finding new ways to reconstitute them. To twist the familiar and offer up something possibly a little different. The worst reaction an artist can ever get is no reaction.
5 out of 44 Pieces View All