//exhibit.php
Keith Rosson + Mario Robert
Archived: May 27th - June 21st, 2010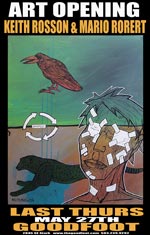 Mario Robert lives in a world where Aztec Tank girl leads a parade thrown for Dia De Los Muertos. He catches glimpses of this world and translates them to into the long and short grains of wood. Like fossils of the galaxy, these wood grains mimic the gamma, infra red and ultra violet wave spectrums floating around in the cosmos. There he starts like the big bang breathing life into the pure beauty and chaos in the grain. This will all go to the beat of a thousand spirits drinking out in the streets or in Mexican cantinas as if all the souls in the sea came out to party.
Keith Rosson has cut his teeth on the Portland art scene over the past decade. Entrenching himself in the DIY culture of late 90s galleries like Martial Arts and the long-running Zeitgeist Gallery, and later on The Life and The Goodfoot, he's participated in nearly three dozen group and solo exhibitions over the past twelve or thirteen years. Group shows include 2001's Independent Art Salon at Bollenbach Art Labs, 2003's Modern Zoo and 2009's Manor of Art madness. He's also an illustrator and graphic designer, having done work for bands such as Against Me!, Hot Cross, Submission Hold, Amanda Woodward and more. When he's not painting pictures of floating wolf heads or rabbits in gas masks, he works in education.
Rosson's moving to the Midwest this summer – this two-person exhibition with Mario Robert marks the last show he'll be having on the west coast (or anywhere) for some time. Over 80 paintings (many of them new) and nearly 20 limited edition prints will be on sale. Unsold work go into storage for an indefinable amount of time, so material will be priced to move. Consider it a fire sale.
Keith says about his work. "I've always worked with heavy, obvious themes in mind. Universal themes. Loneliness, jingoism, lack of emotional connections, greed, kindness, justice. But no one wants to be slapped over the head with obviousness or saccharine-laced symbolism.
Instead, these are often funny paintings. Dark imagery laced with a kind of black humor. There's also a heavy nod to comic book culture and a kind of cut-and-paste punk aesthetic – I grew up on both and have found their influences nearly impossible to shake off. I've recently started laying ink illustrations directly onto the canvas as well; the juxtaposition between the bright paint and black ink just adds another level of contrast to the work – dark explorations with a bright palette, childlike illustrations of ageless subject matter.
Captain America and Death drunk at a press conference.
The work has gotten more complicated aesthetically (now that I'm doing much of the detail work with ink and a quill, paintings take a hell of a lot longer to finish), but the emotional exploration has remained the same over the years. It's the act of trying to document complicated emotions in a simple, discernable way. Or trying to portray simple emotions in a way that takes that deciphering.
Simply put, they're one-panel documents – in acrylic, ink and correction fluid, in allegory and a visual lexicon slowly created over the years – of someone making this way through the world."
ARTISTS
5 out of 117 Pieces View All