//exhibit.php
Chris Haberman + Roscoe Hall II
Archived: March 25th - April 26th, 2010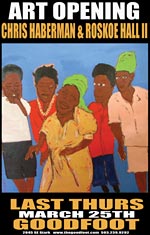 This show is based off our interpretations, experiences and the definition of what we individually feel the term "KIN FOLK" means: in society, culture and in art.
These interpretations have led to collaborations of artworks between us and many works individually: created virtually on anything we could find (just like the old days) with the result being our own version of Americana: a world of folk art, tradition and urban expression.
Kin
– a person's relatives collectively;
– a group of persons descended from a common ancestor or constituting a family, clan, tribe, or race;
– of the same kind or nature; having affinity.
Folk
– people in general;
– people as the carriers of culture, esp. as representing the composite of social mores, customs, forms of behavior;
– members of one's family; one's relatives;
– having unknown origins and reflecting the traditional forms of a society: folk culture; folk art.
Chris Haberman is a working writer, painter, curator and musician, native to Portland, Oregon. Aside from painting, he has published poetry, journalism and fiction; being awarded the Tom Doulis Fiction award, the Wilma Morrison award for excellence in journalism and is a member to the Academy of American Poets.
All of Chris Haberman's artwork is created on found (post-consumer materials) objects, given or "found" on the streets and alleyways of Portland, OR, a discarded cabinet door, a table top or the occasional battered street sign quickly becomes the backdrop for a integrated puzzle of human figures. The multitude of "folk art" images pushed together with words, objects and figures reflects the complexity of our modern life, reflecting people, politics, the region, pop-culture, media, music, film and literature. Chris has painted many murals around Portland, including a future project at SE Produce Row, a Regional Arts Council funded mural for the Spring 2010, which will celebrate the history of central eastside Portland.
Chris has curated a show for Sam Adams at The City Hall of Portland, Oregon, (Gay Pride, 2007), shown with Juxtapoz Magazine and state wide arts fair "Oregon Art Annual" and is a frequent contributor to Art In The Pearl, SE Artwalk, Alberta Street Fair, Foster Artwalk, Chair Affair, The Art Institute of Portland, Buckman School Art and Sell, The Goodfoot Gallery, Cascade AIDS Project, Mark Woolley and Portland Open Studios. In Jan, 2010, Chris was a feature artist for Oregon Art Beat on Oregon Public Broadcasting.
Chris is also a fervent freelance curator, creative director and founder of Portland City Art – an arts coordination group that has organized hundreds of Portland art exhibits with regional artists.
Roscoe Hall II is a working artist, who focuses mainly on painting, photography and the culinary arts .
In visual art he expresses a more contemporary folk style in his paintings, with his main goal being the act of story telling.
In Portland, Roscoe's work has been featured at The Manor of Art at Milepost 5, The Art Institute of Portland, Seven Planet, East Bank Commerce Center, The Goodfoot, Olympic Mills Commerce Center and Gallery Zero. He has also shown at Chaucer Group Co-Op in London, England; and Savannah Civil Rights Museum, Hurn Museum, Red Gallery and The Floyd Projects in Savannah, Georgia.
Roscoe was born in the great state of Alabama, but grew up in the smooth streets of Chicago. He is the renowned grandson of the originator of "Dreamland" Barbecue, "The Best Barbecue Joint in The South", in Birmingham, Alabama. He now works and lives and makes spontaneous, super-colorful art in Portland, Oregon.
ARTISTS
Chris Haberman, Roscoe Hall II
5 out of 130 Pieces View All