//exhibit.php
Jason Graham + Kimmie Hutchins + Robert Pellicer
Archived: April 30th - May 27th, 2009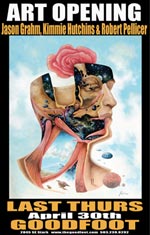 Jason Graham
Jason Graham lives here in Portland. When he's not playing video games he finds time to draw and paint some sad little animals. He has become a quite a hermit, but he is going to leave the house for the new X-Files movie.
Kimmie Hutchins
Kimmie Hutchins, an Oregon native, moved to Portland in 2001 and after the success of curating a small gallery decided to venture out on her own. Her work is both sad and playful. Each image is simple yet sometimes disturbing. Currently a full time artist, Kimmie has steadily been building her body of work and her name.
As a self taught artist Kimmie had many influences growing up and has always been drawn towards pop-culture and the ever expanding low brow art movement. Her work incorporates simple graphic scenes where sad girls and curious animals invite you in to take a look. In her previous works, dark-eyed characters lounged amidst huge fantasy flowers, rooms were wallpapered with adhesive alphabets, and robots and giant bees conducted mysterious transactions with a semi-autobiographical heroine in striped socks. She has spent the last several years perfecting her precise, linear style and playful imagery.
Kimmie hopes to continue painting and growing as an artist. With constantly evolving work, she has a bright future ahead.
Robert Pellicer
Each of Each of Robert's paintings is infused with an organic simplicity that attempts to cut through the complications and chaos of modern life. As a representation of the artist's world, each piece carefully positions plant and animal life in vibrant settings inspired by the merging of the Urban and the Rural. Although many negative effects usually accompany urban encroachment on the natural landscape, Robert suggests that a compromise can be reached if only we open ourselves up to a collective consciousness that advocates a healthy relationship with our natural environment. By viewing each painting as a statement of nature's resilience and supremacy we may temporarily connect with its healing abilities and tap in to a confluence of art and environment that seeks to narrow the gap between people and place.
ARTISTS
Jason Graham, Kimmie Hutchins, Robert Pellicer
5 out of 86 Pieces View All