//exhibit.php
Photography Show
Archived: May 29th - June 23rd, 2008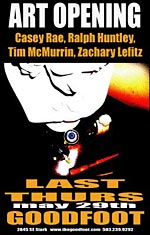 Casey Rae Wickum grew up in the Midwest where she received a degree in Environmental Photojournalism from The Photography Institute at Lansing Community College. Casey lived in New Orleans for some time before moving to Portland in 2001. The images in this collection are from a visit to New Orleans in May 2008. She loves the city and wants to share the simultaneous feelings of hope and despair that permeates everything in a place that needs all the attention it can get.
Katie Burkart grew up in Birmingham, Alabama and studied photography at the University of Georgia in Athens. While in school she shied away from not only portraiture but pictures involving any people whatsoever. Over the last few years she has been trying to photograph people not only as an exercise but also as a document of life on tour with a d.i.y. punk band. There are always plenty of characters that you meet and absurd situations that you find yourself in and you must be prepared for all plans to change at any given moment. These are photos she has taken while on tour with her band Defect Defect.
Ralph Huntley is interested in the little compositions that show up when you look at the world through a camera lens. What might have appeared as a collection of random images barely worthy of a forgotten snapshot emerges as a gratifying arrangement with hidden (and occasionally amusing) form, balance, color and symmetry. Ralph likes to discover what he calls "found still-lifes" which can include any myriad number of objects around his house or at work, things in his neighborhood, people he knows. Somebody pointed out to him that people aren't considered still lifes, only objects are, so Ralph has gone ahead and stretched the definition of still life to include things that have life that are being still; at least still enough for him to get their image. What results are interesting moments in time captured. Objects or people that were in proximity to other objects or people for even an instant, perhaps beautiful or disturbing or even just unexpectedly stimulating. Ralph uses a computer to further explore the intricacies of whatever found still-life I'm working on. This endeavor is very gratifying and strangely peaceful, the only worry an underlying anxiety that he's missing a great composition hiding right in front of him.
Tim McMurrin is an average guy around the neighborhood. He often takes his camera along to snap pictures of things he sees. He likes how the pictures show him things in a different, better perspective – because of their ability to imply more than what's there. He hopes you enjoy looking at them as much as he does.
Zach Lifitz was born and reared in Los Angeles. He moved north to Davis, California to study art as an undergraduate. During that time he spent a year living in England, and after that time a year living and teaching in Mexico. Photography is about a moment in time, frozen forever, and displayed for all to see. It gives a glimpse into a singular moment of reality. Zach creates a space that reworks and redefines each image within itself. He has taken multiple images from different moments that define a similar space, whether that space is the same city, the same block, the same country, or simply within a few moments of one another. These moments are then combined to form a broader, more complete notion of a specific space and time.
ARTISTS
Casey Rae Wickum, Katie Burkart, Ralph Huntley, Tim McMurrin, Zach Lifitz
5 out of 84 Pieces View All