//exhibit.php
David Whelan, Drew Anderson and Michael Fields
Archived: January 31st - February 25th, 2008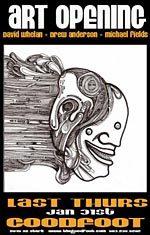 The Goodfoot features 3 new artists for the month of February: David Whelan, Drew Anderson and Michael Fields.
David Whelan has been working in Portland for the past ten years, exhibiting his art on a mobile picture gallery on a vintage tricycle for most of that time. He regularly shows at Saturday (Skidmore) Market as well as first and last Thursday. He will continue the market/street vending through the end of 2008, at which time he plans to take a hiatus to explore other ventures and mediums. David is influenced by the subconscious, dreams, myths, old fairy tales, ghosts, and various states in between. The images reveal themselves as he allows the medium he is working with to exist in tandem with each other, balance between expression and restraint. David oftentimes uses charcoal (burnt wood) upon panels of found wood, taking inspiration from the forms within the grain. He is most inspired when working with stream of consciousness and developing a narrative as he discovers more and more within the piece to bring out and elucidate.
Drew Anderson is an artist, inventor and idea person. Drew's creative depository is known as Millions of Hundred Dollar Ideas where for the past year and a half many of his ideas are shared with the world. Drew's pen and ink work is continually evolving and translates to the direct visualization of his creative process. This series combines abstract logic and alchemy to help create a unique and inspirational experience for each viewer of the work.
Michael Fields is a self-taught artist based in Portland, Oregon. His work is a product of personal reflection.. "When I paint, I contemplate the world as I know it: situations and people of past, present and future come into focus and it is my reaction to these concepts that dictates what emerges onto the canvas." Michael's work is born not of planned composition, but inner dialog, often challenging the viewer to decipher messages both on the surface and buried deep within it's structure.
ARTISTS
5 out of 8 Pieces View All