//exhibit.php
Kendra Binney and Derek Olsen
Archived: February 28th - March 25th, 2008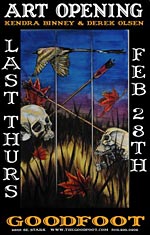 Derek Olsen was born in Virginia in 1973. He has traveled and created art since childhood. He now lives in Portland, Oregon and is co-owner of the small silk screened apparel company Detour Graphics and is currently in a tattoo apprenticeship. This collection is a celebration of life, death, folklore, friends, legends, and the soundtrack that ties them all together.
Kendra Binney was raised in a small mountain town with no shoe stores. Most of her time was spent barefoot treading through the minuscule world of spiders, snakes and all things hiding in the grass. She transfers this closeness with the small and obscure into her paintings. Through scenes of dripping landscapes and insecure, vulnerable characters, she illustrates a world draped in memories, remorse, and fragile realities. Seen through pastel washes and shiny candy coatings of resins, her works evoke both nostalgia and contempt. They are at once gentle and cruel, sweet and unsettling.
Kendra currently lives in Portland Oregon. She spends her days all alone in a small studio with no windows. Here she paints, daydreams, and paints some more.
ARTISTS
5 out of 44 Pieces View All