//exhibit.php
Guy Burwell Cancer Recovery Fund Raiser.
Archived: March 14th - 16th, 2017
check here regularly on on this Facebook event
and this Facebook page
Guy Burwell Cancer Recovery Fund Raiser
as there will be new things added weekly. Help a Brother out!!!
"Guy Burwell Cancer Recovery Fund Raiser.
Good Morning, world.
We here at Po'Boy Art and Framing are organizing and supporting other efforts to present a Fund Raiser on behalf of our comrade in the Arts, Guy Burwell.
Suddenly this winter, Guy was diagnosed with a throat cancer and speech threatening tumor after having what seemed to be a sore throat for a few weeks. His doctors quickly realized the issue and he was sent to undergo treatment at Providence Cancer Center in Portland. Many of us have friends and family that have or have had cancer in any of it's many forms and it's never a pleasant experience even in it's smallest forms. Guys cancer was a viral mutation nothing could prevent.
Along with the sickness and the treatment come the bills. Insurance has helped a great deal with many tens of thousands of dollars worth of treatment that seem to pile up right away, but with sickness and treatment also comes the total inability to work and gain income for all of the weeks and months of recovery. Sadly most artists we know can't afford to suddenly lose their health and their ability to work overnight and manage to weather the storm for untold months, so we are doing this Fund Raiser to help a buddy out.
Guy was reluctant to be the recipient of straight up donations so we are doing several things as a part of our efforts. We told him to sit down and let us be nice to him.
• We will have a straight up donation button for you if you wish to give with no muss or fuss in any way you wish, and we also have an art sale for people who are interested.
• We have quite a collection here at the Po'Boy Art and Framing Gallery of Guy Burwell original sketches and drawings from many of his poster projects and other small jobs.
• We will be posting a selection of these for sale and offer new ones as we go through the stacks.
• There are a lot of old and rare scraps of process art and studio sketches in our inventory. Stay tuned and check back for new items and details.
• In addition, some of Guy's contemporaries and well wishers have donated items for our efforts and those will also be offered.
At the end of our efforts, we are planning a final small art project and anyone involved in our efforts here will be the first to hear about it. Guy says he is trying to make a small and limited art item of some sort when his stamina and concentration returns to a workable level. He won't say what it is, exactly, but you will hear about it here first and only.
With throat cancer, all of the avenues to eat and support the body with nutrition, to speak, to breathe properly are affected nearly right away so a person's whole routine of life can be changed in an instant. No fun. Guy has lost almost 50 pounds to date but looks good, we say, and is slowly starting to eat solid food after four months. Fatigue becomes chronic, aches and pains linger, the needed medications fog the brain and as he describes it none of it has been anything but terrible but the shortest way through an ordeal is straight ahead as direct as possible and it seems like that is his plan.
We all have friends and family who are suffering through illness and unavoidable circumstances that can suddenly change everything in life. Keep an eye on your friends and loved ones and do what you can, when you can. It always seems to help.
Thanks for your attention.
Jason Brown at Po'Boy Art and Framing
New Release!
THE AVETT BROTHERS • TALLAHASSEE 2017 / ROAD WARRIOR 01 Combo Pack
—————————
New Release!
THE AVETT BROTHERS • TALLAHASSEE 2017 / ROAD WARRIOR 01 / BAND OF HORSES • SPRING TOUR 2017 / ROAD WARRIOR 01 / Doodle Combo Pack
—————————
NEW Release!
BAND OF HORSES • SPRING TOUR 2017 / ROAD WARRIOR 01 Combo Pack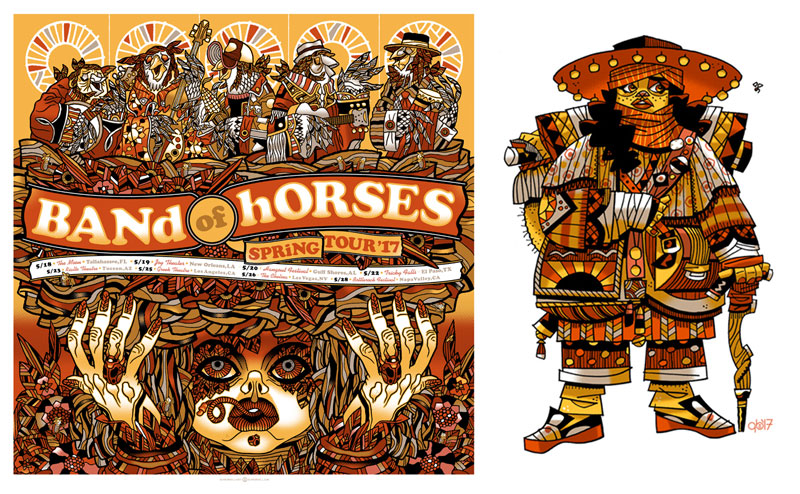 ARTISTS
5 out of 104 Pieces View All