//exhibit.php
Charlie Alan Kraft & Kim McCarthy
Archived: May 31st - June 25th, 2007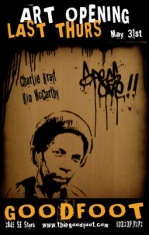 The artists this month are Charlie Alan Kraft & Kim McCarthy.
Minnesota born Charlie Alan Kraft scorned the Midwest for its existence, too long before that scorn, turned his legs west and he ran as fast as he could from the suburbs, the winters, the mall of America and the winters again, then the winters once more o.k. He ran mostly from the winters. Charlie will say though he stayed just long enough to write his name on everything he could find three times or more. Charlie went to school for a short time until he was so bored he convinced himself he didn't need to finish. He started painting and showing in several galleries, pushed himself to print out hundreds of T-shirts with his art on them to make big money, then gave mostly all of them away He made some great friends and started a family. Four years ago as planned he gave up all his success in Minneapolis to move to Portland and start over in a fresh city with new faces and new challenges. Charlie started off great! He broke his leg a week after he moved here and couldn't walk for over six months, got super depressed, got really happy again, broke his knee, had his appendix taken out, worked as an apartment handyman for a long time, finally got a house, had several shows here, just started painting murals again and got sucked into the vinyl toy scene. He's still publicly a very quiet artist compared to his time in Minneapolis but he likes being on the outside of things sometimes, you get to observe the reality of people and places when you remain some what invisible, it's like seeing the truth without being lied to about it first.
Kim McCarthy was born and raised in Washington State. Growing up in the sticks and later living in the city she developed a taste for urban street art such as wheat pasted posters and flyers, stickers, stencils, murals and spray painted graffiti. Meeting new friends and seeing many bands, the "underground" and "outsider" art became part of her life. Having her first solo art show at the age of sixteen gave a new meaning to being an artist, selling almost all her paintings, she realized the potential in becoming a professional artist. Using mainly spray paint, stencils and ink as mediums she would create images on almost any paintable surface she could find. Later, learning how to silkscreen her stencils she started making and selling clothing online and at street fairs.
She moved to the Oregon coast about six years ago and since, Kim has had some great creative forces working with her. She has had numerous solo and group exhibits through out Washington and Oregon. Using the same mediums, having a short attention span, plenty of ideas and learning new techniques, she has created many products such as clothing, housewares, paintings, prints, sculptures and toys. She also writes the Art Gallery reviews for the Astoria Review Magazine, which covers Art and Events around the Pacific Northwest. She currently lives and works in Seattle, WA.