//exhibit.php
88 Strong
Archived: June 24th - July 29th, 2015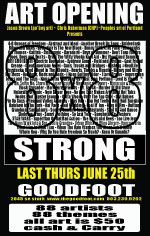 Jason Brown (po' boy art) – Chris Haberman (CHP) – Peoples art of Portland presents
"88 Strong"
Goodfoot will have an art show, Thurs, June 25. This months art show is "88 Strong"
We supplied 88 artists (which turned into about 150 artists) with 8 inch x 8 inch panels. they were asked to pick from 88 themes that we came up with. Each artists did 8 panels.
All art will be $50 in the Goodfoot. all framed.
This is a cash and carry show.
Everything is framed.
There will be 700+ pieces of art in the show!!!
Themes
4-D Ounces of Freedom
Abstract and Ideal
Another Break Up Song
Balderdash
Bikes and Hikes
Body Hair Is The New Black
Bunny With A Jet Pack
Burroughs
Cat Memes
Catfish
Cinemagic
Daredevil
Days of Summer
Don't Tase Me Bro
Doos, Dogs and Don'ts
Drink The Willy Wonka Kool Aid
Dry Woodland Summer
EDM/GMO/BDSM
Electric Boogaloo
Eyebrow Game
Field and Stream
Goat Friend
Grease
Great American Novel
Guns, Trucks and Bridges
Half Rack Of Nickels
Hashtag #RealLife
Haystack and Hood
Head In The IClouds
Hearts, Throbs and Muscle
Hillary and Ultron
Hot Mess
Hot Rods, Mods and Bods
I Keep Getting Older
I Love Trains
Impression
Jesus and The Gays
Kama Sutra
Kids Are Us
Last Stop Portland
Leed Is Wegal ™
Like Me, Selfie Me, Share Me
Loser Cruiser
Mechanical Flowers
Miniscule and Gigantic
Mock Crusader
More Furry Friends
Mr. Spock
Murder Of Old Crow
Naturally Organic
New Blazer Logo
No One Ever Makes Art About Hot Tubs
Noobs
Not Hipster Enough
Outta Wood
Over The Top Chef
Owl Babies
Pin Up Guys
Pleasant Valley Anarchy
Plus One
Pop Out Teeth
Rain Hail Sunshine
Rainbow In The Dark
Rat Pack
Red Wedding
Reel M' Inn
Ring Of Fire
Ruffian Grandma
Sansplants
Scurvy Commie Fascist Bastards
Shut Up And Dance
Skeleton Army
Smart Clothing
So Last Year
Spaghetti O's Western
STAR WARS
SuperMan On BatMan Action
The Birds and Bees
Too Live Jew
Two Nuns Walk Into A Bar
Uncle Grandpa
Urban Whiskey Wine Library
Vancouveria
What I Am Is What I Am
When The Rain Washes You Clean You'll Know
Whole Hog
Why Do You Hate Freedom So Much?
Xenu Or Xanadu?