//exhibit.php
THINGS THAT GO BUMP IN THE NIGHT featuring ZOLTRON
Archived: October 17th - 18th, 2014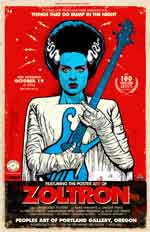 "THINGS THAT GO BUMP IN THE NIGHT:
a Halloween-ish Group show"
online release sunday 10/26 between 1-2 pm (pst)
(this page will refresh with available work)
Peoples Art of Portland OpenStudios?
Reception: Saturday, October 18. 5-9pm. 
Show runs October 18 – Nov 9, 2014. 
Gallery OPEN – Thurs-Sunday, NOON-6pm.
www.peoplesartofportland.com
Featuring mega-poster/print artist, the mysterious Zoltron .
Works from over 100 Portland artists, tackling the theme of Things That Go Bump In The Night.
Party: Costumes welcome! Art prize for the best costume.
This month at the Peoples Art of Portland is a tribute celebration of artists' definition of Halloween/Day of The Dead/Samhain, in a combo we call "Things That Go Bump In The Night" – goblins, ghosts, zombies, monsters, creepy crawlies, deadly robots, maniac chickens, and anything on the "Halloween" side of things.
The 100 regional artists are joined by the ever popular rising star, ZOLTRON, a colorful illustrator that often uses all of the above "Halloween" themes in his large body of work, shown in music ("gig") posters, originals, stickers, prints and sculpture. ZOLTRON will have over 100 works in this show, covering a large body of his career. The show poster for this exhibition is a special screen print made exclusively by ZOLTRON for Peoples Art of Portland, for Things That Go Bump In The Night.
Having just returned from a sold out show in an ancient cathedral Bordeaux, Zoltron will be showcasing art and posters spanning decades of his creative life.
Rare variants, sold out editions and original art will be available through The People's Art of Portland Gallery and through an online release following the Opening on Oct 18th.
Peoples Art of Portland Gallery
700 SW Fifth (3rd floor) People's is Suite 4005
Pioneer Place Galleries, Pioneer Place Mall, downtown Portland
open Thurs-Sun 12-6pm
ARTISTS
5 out of 84 Pieces View All