//exhibit.php
Icon - a portrait art show featuring Jay Ryan
Archived: September 19th - 20th, 2014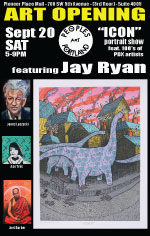 "ICON – a portrait homage"
Featuring 100 Portland artists of different media.
Featuring poster artist (Jay Ryan)
Reception: Saturday, September 20. 5-9pm. 
Show runs September 20 – October 12, 2014. 
This month at the Peoples Art of Portland is a celebration of artists' renditions of the term ICON – in essence a portrait show open to artist interpretation, this show of homage explores what ICON means to the artists, whether it be Elvis, a self-portrait, your husband, a beloved pet or your favorite bike – this show examines the idea of putting figures on a pedestal, making images ICONIC; famous and infamous, and framing the idea of what an ICON is to artists.
The 100 regional artists are joined by acclaimed print/poster artist, Jay Ryan, an illustrator that often uses animals and nature to show iconic imagery, through posters of bands to his unique and loved cartoonish style, shown in music posters, books and prints.
 
 Peoples Art of Portland Gallery
700 SW Fifth (3rd floor) People's is Suite 4005
Pioneer Place Galleries, Pioneer Place Mall, downtown Portland
open Thurs-Sun 12-6pm
www.peoplesartofportland.com
 Peoples Art of Portland Gallery: For Artists. By Artists.
ARTISTS
5 out of 89 Pieces View All