//exhibit.php
EMEK art opening
Archived: July 12th - 13th, 2014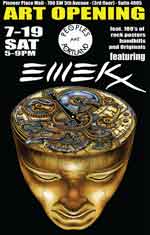 Peoples Art of Portland, Po Boy Art/Jason Brown, and Chris Haberman presents…
 "EMEK: THE THINKING MAN'S POSTER ARTIST"
Reception: Saturday, July 19th. 5-9pm. 
Show runs July 19th – Sept 14th
Gallery OPEN – Thurs-Sunday, NOON-6pm. 
Peoples Art of Portland – 700 SW Fifth (3rd floor) People's is Suite 4005
Featuring hundreds of new and past works, ranging from electric and glow-in-the-dark poster installations, to hand-crafted originals by this internationally acclaimed print and design artist
The Peoples Art of Portland was opened in 2010.  We were struggling for two things: a name for the gallery and a resident artist.  Both came with one conversation with the amazing EMEK, who not only agreed to be our shining resident artist, but also helping to provide the basis for the name of the gallery.
This is EMEK's 4th annual show with the gallery, an always celebrated and magical time as hundreds of art works grace the space.  We will be featuring highly sought original works; installation areas of electric poster boxes and glow in the dark/black light works, as well as a selection of rare past works and concert handbills. Our gallery slogan, "For Artists, By Artists" is represented as a whole by this generous and talented Portland transplant and we are proud to present this enormous collection of his works.   
We will have all of whats left of Emek's work available after the opening online Sun 7/20 here
Peoples Art of Portland Gallery
700 SW Fifth (3rd floor) People's is Suite 4005
Pioneer Square Mall, downtown Portland, OR
open Thurs-Sun 12-6pm
www.peoplesartofportland.com
Peoples Art of Portland Gallery: For Artists. By Artists.
ARTISTS
5 out of 520 Pieces View All