//exhibit.php
Love of Portland featuring Gary Hoston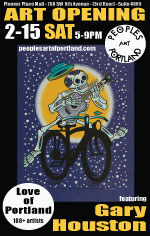 "3rd Annual Love of Portland Art Show"
• 150 + regional artists respond to the theme of Love and Portland
• Featuring Portland based print/poster artist Gary Houston
 Reception: Saturday, February 15th. 5-9pm. 
Show runs February 15-March 9. 
Gallery OPEN – Thurs-Sunday, NOON-6pm.
Portland is a city to love.  How can you not love Portland?  Whether a Native Portlander or an entrenched Oregonian transplant, the City is our home and this month at People's Art of Portland, regional artists respond to the themes of Love and Portland.
To us, art is a huge part of what makes up Portland culture; its people, and the appreciation and LOVE for all things Portland. 
 
As former joint curators of the LOVE show in past years, we started this Love of Portland show in 2012 because we wanted to express local artist's response to the themes of LOVE and PORTLAND – two ideas that are part of a lot of themed art, but even more local and centered on a subject we live and breathe every day. From tattoos, bikes and bridges, to themes of Portlandia and food carts, this show reflects a "People's" view of what is Portland, from an artist's perspective.
Peoples Art of Portland Gallery
700 SW Fifth (3rd floor) People's is Suite 4005
Pioneer Place Galleries, Pioneer Place Mall, downtown Portland
open Thurs-Sun 12-6pm
 www.peoplesartofportland.com
ARTISTS
5 out of 70 Pieces View All