//exhibit.php
"Prints and the Revolution"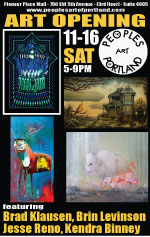 "Prints and the Revolution" 
 Reception: Saturday, November 16th. 5-9pm. 
Show runs November 16th – December 8. 
Peoples Art Gallery OPEN – Thurs-Sunday, NOON-6pm.
www.peoplesartofportland.com
 
• Featuring rock poster and art prints by Brad Klausen
• Also featuring various prints and embellished works by Portland based artists Brin Levinson, Jesse Reno, and Kendra Binney
 This month at the Peoples Art of Portland is a celebration of printed works (specially reproduced images of original works) by 3 of Portland's best, and a special feature selection of works by acclaimed music/print artist, Brad Klausen.   Reno, Binney and Levinson are some of Portland's brightest stars, highly collected and loved – although they make original work all the time, they also produce prints of their sought works. Just in time for Christmas, these 4 original artists provide a great selection of affordable prints for the holidays.  
Feature/Poster Pods: People's Gallery features a nationally recognized poster artist each month. This month's artist is the widely known Brad Klausen, exhibiting recent posters, art prints, and original drawings from this highly celebrated print artist, who is best known for his work done with the band Pearl Jam.  
Peoples Art of Portland Gallery
700 SW Fifth (3rd floor) People's is Suite 4005
Pioneer Place Galleries, Pioneer Place Mall, downtown Portland
open Thurs-Sun 12-6pm
Peoples Art of Portland Gallery: For Artists. By artists.
ARTISTS
Brad Klausen, Brin Levinson, Jesse Reno, Kendra Binney
5 out of 83 Pieces View All