//exhibit.php
88 Strong
Archived: September 24th - October 26th, 2013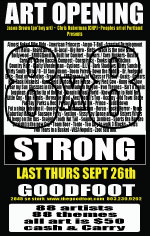 This months show at the Goodfoot is "88 Strong" it opens Thurs Sept 26th from 5-12. The show will be up until Oct 28th.
We supplied 88 artists with 8×8 panels, they were asked to pick from 88 themes that we came up with. Each artists did 8 panels.
All art will be $50 in the Goodfoot. This is a cash and carry show. Everything is framed. There will be 500+ pieces of art in the show!!!
topics
Almost Naked Bike Ride – American Princess – Ampu-T-Ball – Arrested Development- Art Mafia – Beardsmen – Bi-Local – Big Hero – Birds – Black is the new Black- Bollywood – BRIDGElandia – Built for Comfort – Buskers / Corn Huskers- Busted – Carnies – Chew Bacca – Compost – Conspiracy – Cooks in the Kitchen – Country Flair – Crafty Wonderman – Cyclons – D.I.Y. – Dark Shadows – Dirty Sanchez -Dirty South – Disc / O – DJ Sam Adams – Doom Patrol – Down the Middle – Dr. Feelgood – Elvis – Float on – Foodies – Free Bird – FREElance A-Lot – Glass or Plastic – Goats – Grifters – Half Rack (Nickels) – Hand Held Device – Hen House – Holy Pied Cow – Hung Far Slow – I wear my Sun Glassses in the Rain – Iron Made in Oregon – Iron Thrones – Isn't it Ironic – Jeggings – Just the tip of the Hat – Keepin it Real World – Know When to Hold Em' – Little Guy – Man Hands – Moveable Food – Next Model's Top – Occupy – Old Town Shore – Par-Tay – Parks & Rec – Po Boy – Portland Ink – Prince – Puddletown – Put a ninja Robot on it – Queer Pope – Reconstruction – Rerun – Rocky Horror – Roots – Saturday Market – Sausage Party – Sexting – Sissy Boy Dance attack – Sisters Wives – (S) leepy on the Bus – Snaggle Tooth Rat Tail – Soapbox Zombies – Sports Bra Bar Bro – Straight is the new Gay – Team Beer – Tonto – Too Lazy to walk 3 Blocks – Totes – Two Tears in a Bucket – VEGANopolis – Zoot Suit Riot