//exhibit.php
Carnival featuring Ben Wilson
Archived: July 10th - 11th, 2013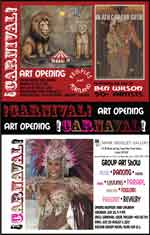 Peoples Art of Portland Gallery's
Carnival featuring Ben Wilson
Reception: Saturday, July 20th. 5-9pm.
Show runs July 20th – August 11th
Gallery OPEN – Thurs-Sunday, NOON-6pm.
A 100 artist group art show celebrating the romance
of sideshows, circuses and traveling entertainment
Featured Carnival Poster Artist of the Month – Ben Wilson
This is a joint partnership gallery show between Peoples Art of Portland Gallery and Mark Woolley Gallery at Pioneer (next door to each other), celebrating 2 similar themes: Carnival (sideshow/circus) at Peoples and Carnaval! (the festival of dance/masks) at Mark Woolley at Pioneer Gallery.
People's Gallery: CARNIVAL – a multi-media exhibit celebrating everything that surrounds the classic and modern romantic traveling carnival: circuses, clowns, bearded women, amusement rides, freak show and side show acts, jugglers, etc – really anything to do with the idea of CARNIVAL.
Mark Woolley: CARNAVAL – the historic festival of dancing, masks, costumes, parades, etc. (For more info on Mark's show, please email: mawoolley@comcast.net). HIS basic show info is at the end of this press release.
www.peoplesartofportland.com
Peoples Art of Portland Gallery
700 SW Fifth (3rd floor) People's is Suite 4005
Settlement Galleries
Pioneer Square Mall, downtown Portland
open Thurs-Sun 12-6pm
ARTISTS
5 out of 60 Pieces View All