//exhibit.php
the art of Portlandia featuring DKNG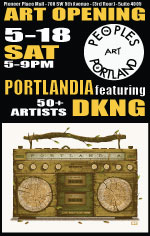 "The Art of Portlandia" Featuring DKNG
Also featuring local PDX art used by the show for Season 3 from 60 + artists, curated by Peoples Art of Portland Gallery
Reception: Saturday, May 18th. 5-9pm.
Show runs May 18th – June 9th.
Gallery OPEN – Thurs-Sunday, NOON-6pm.
DKNG will be returning to Portland, Oregon for our second solo show at The Peoples Art of Portland! We will be exhibiting over 50 screen prints, more than half of which have been unavailable to the public for years, and they'll all be available for purchase.
Established in 2005, DKNG is a design studio based in Los Angeles, California with a focus on the music and entertainment industries. As musicians themselves, Dan Kuhlken and Nathan Goldman first collaborated in high school as band-mates and later as a design and illustration team. In addition to concert posters, DKNG designs logos, music packaging, apparel, and digital media.
Our gallery slogan is "For Artists, By Artists" – and this fit perfectly last year when our gallery was asked to be the "art curators" of Season 3 for TV Show PORTLANDIA. We were honored and hit the task running. We were responsible for selecting all the back drop art used for the show for last season, working directly with the art department of Portlandia, and the script to help create a very "Portland" feel with the back scenery used…and of course, all the art was made by Portland artists.
This art show is a tribute showcase to the work of the artists from Portlandia, their art, and posters from the show from varied artists, including DKNG, Guy Burwell, EMEK, Ali Schlicting, Allison Bruns, Amy Stoner, Andy Vanoverberghe, Anna Magruder, Beth Myrick, Brenda Dunn, Brooke Weston, Cathie Joy Young, Chris Haberman, Chris Kelleher, Dan Ness, Darlene Schaper, David Wein, Emily Bates, Eric Blackburn, Fred Swan, Gary Hirsch, Heide Davis, Heidi Elise Wirz, Jeff Sheridan, Jennifer Mercede, Janet Amundson-Splidsboel, Jeremy Okai Davis, Joel Barber, John Wray, Jonathon Hill-Jacquard, Katherine Mead, Kelly Neidig, Kendra Binney, Linda Womack, Lea Barozzi, Matt Schlosky, Michael Trapp, Mona Superhero, Tamara English, Tripper Dungan, William Park, and many others.
Peoples Art of Portland Gallery
700 SW Fifth (3rd floor) People's is Suite 4005
Settlement Galleries
Pioneer Square Mall, downtown Portland
open Thurs-Sun 12-6pm
ARTISTS
5 out of 56 Pieces View All