//exhibit.php
"OREGONOLOGY" Featuring David Welker
Archived: April 11th - 12th, 2013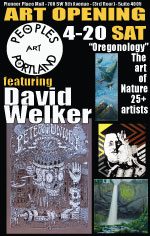 "OREGONOLOGY"
Featuring Oregon science-based works by 30 Portland artists
Guest curator, Peoples Art of Portland Gallery manager, Ali Schlicting. Oregonology concept by Ali Schlicting and Erin Cathcart.
Also Featuring New York artists David Welker
Reception: Saturday, April 20th. 5-9pm. (Earth Day)
Show runs April 20th – May 12th.
Peoples art of Portland Gallery OPEN – Thurs-Sunday, NOON-6pm.
This month's artist is New York based David Welker. His two decade long professional career has ranged from large-scale murals to posters for the legendary rock band Phish. Welker's 1993 album cover for the band received critical acclaim and was voted as "One of The Most Iconic Album Covers Of All Time". Welker is a traditionalist that has adopted the graphic nature of poster art, while still exploring the realm of abstraction, a quasi-literal environment, which challenges the borders of conceptual and pictorial space. As Welker puts it, "Every generation predicts its' own doom as well as the end of art as we know it. This is one of many human proclivities that I like to reflect on and also reject."
In celebration of Earth Day and Oregon's environment, the gallery is presenting a 25 artist group show for April, entitled Oregonology.
The People's Art of Portland would like to invite you to celebrate Earth Day with "Oregonology" a group art show opening April 20th. 30+ artists have come together to explore the Oregon environment by creating work interpreting topics such as salmon, the oregon coast, local geology, old growth forests, Oregon's prehistory, native american culture, and more. The pieces will be highlighted by short interpretive panels describing the cultural and environmental value of each topic, blending education with art in a celebration of all that Oregon has to offer.
Peoples Art of Portland Gallery
700 SW Fifth (3rd floor) People's is Suite 4005
Settlement Galleries
Pioneer Square Mall, downtown Portland
open Thurs-Sun 12-6pm
ARTISTS
5 out of 36 Pieces View All